"Why do they call themselves 'The Vicar and Friends'?"
Because it's the Vicar and his Friends who perform! Not terribly imaginative, perhaps, but perfectly accurate…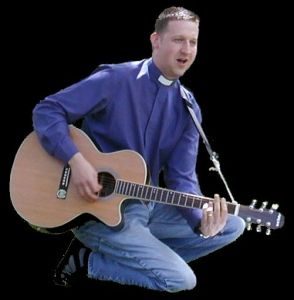 Revd Mark Dunstan learned to play piano as a child and taught himself to play guitar subsequently. In his late teens, he joined a band with some school friends, playing rock music in pubs and clubs, including some of the important "new band" venues in London like the Rock Garden in Covent Garden and the Mean Fiddler in Harlesden. Now a Parish Priest, he still likes to make music with other people.
During his time in Hunsdon, Widford and Wareside, Mark has come across a whole load of other people with musical talent and an eagerness to serve others by putting on a show. So he's called them together in the villages – selecting musicians and singers from Hunsdon to perform in Hunsdon and so on. The band have played music from every decade since the 1930s; most of it well known; all of it quality entertainment.
Look out for their next appearance!