It was another beautiful evening, just like 2013.  As the barbecue warmed up, so the crowd began to filter in, and by 7:30pm, there were over 100 people in the barn and the courtyard.  "Good evening!"  A voice came over the PA.  The music was about to begin.
Mark (aka "The Vicar") kicked the evening off with a deliberately tuneless rendition of the Beatles classic, "With a little help from my friends", which has become something of a theme song for these concerts.  But without any friends, he then performed Ed Sheeran's "Thinking out loud" before inviting others to join him on stage.  After this, he accompanied his daughter, Ellen, as she sang "Forever like that" by Ben Rector, then performed Billy Joel's "Piano man" with David Goodman (piano).  Then it was the turn of "The Friends".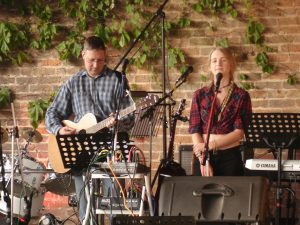 Paddy Findlay, playing acoustic guitar, gave a great solo performance of some well known tunes by Simon and Garfunkel and the Eagles amongst others, as well as singing some of his own compositions.  Then the duo "Second Bite" took to the stage with their versions of some classic '90s Brit-pop and some home-grown material.  Following them, some of Mark's normal musical collaborators played a succession of Shadows hits with new face Tony Forni on lead guitar, before Keith Newell took to the mike to sing some classic Eagles' tracks and more.
As the sun set, the stage lighting came into its own, pulsing with the music, displaying coloured patterns on the walls and floor.  The performers kept changing: Ellen sang more, Tom Hollylee added electric guitar to the rockabilly "Stray Cat Strut" and Hendrix style "Johnny B Goode", while Keith and Mark took turns at lead vocals.  Paul Goodman got to showcase his own talent with a succession of drum solos in the instrumental "Wipeout" and Terry Gerrish supported all the music with basslines both solid and intricate like the Kinks' "Sunny Afternoon".
The gig, first to use "#vicargig" in its publicity, finished with a rousing encore of the ever-popular Proclaimers' anthem "500 miles" and a satisfied crowd gradually trickled home.  "You really should charge more," said one punter, "£5 is way too little."
And so the "Round Two" Tour which started in Hunsdon in November 2014 came to its end.  The Vicar and Friends will be back.  But where?  And which Friends?  Wait and see…