What a wonderful evening at Watersplace Farm, Wareside on Saturday 3rd August courtesy of the Vicar and Friends.  The concert was attended by some 125 people.  Hopefully the performers enjoyed it as much as the audience did.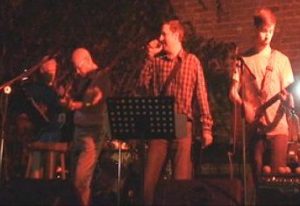 The people taking part were: the Reverend Mark Dunstan on piano, guitar and vocals; Keith Newell on guitar and vocals; Terry Gerrish on bass guitar; David Goodman on keyboard; Paul Goodman on drums who also sang a couple of numbers; Tom Hollylee on electric guitar.  Nicholas Buxton, Mark Dunstan and Paul Goodman sang Only You a cappella style which was excellent – even more so in light of the fact that they had only rehearsed once.  Mark's Daughter, Ellen, also took to the stage with a set of her own (what a beautiful voice – be careful Mark it won't be long before she is putting you in the shade).
The music covered 7 decades and ranged from The Eagles, Rolling Stones, Jason Mraz and finished with The Proclaimers.  You name a good number and they played it.
The atmosphere in the barn and a glass of wine gave it a real Mediterranean holiday feel.
Well done everyone who took part.  A fantastic evening and real value for money.  Watch out The Overtures!!
KK