Sounds of the Summer at Watersplace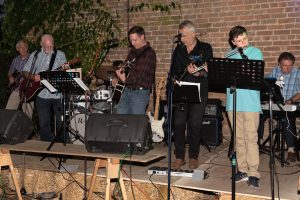 Sunday 21st July could not have been better chosen as the ideal English summer evening for outdoor entertainment in the beautiful setting of Watersplace Farm.  And so it was that the Sound of the Summer event in aid of Wareside Church was enjoyed by a crowd of all ages (from toddlers to pensioners) in sunlit warmth under blue skies, and still warm after sunset, while live music filled the air.  The musicianship of the performers was of such quality that the atmosphere buzzed with their talents and energy, and listeners could still quietly buy a burger or a drink and not miss a musical moment.  We all experienced a heart-lifting evening of pleasure and nostalgia, plus some lively dancing for those who were not too happily relaxed to do more than allow themselves to listen and watch!
The musicians were:
Jake Saunders (guitar & vocals), who opened the evening with some cover versions of popular songs and his own compositions.
Second Bite duo Peter Hayes and Gary Edwards, playing some of their own compositions and also 90s music.
The Vicar and Friends, who performed a range of rock music from six of the last seven decades –  Mark "The Vicar" Dunstan (guitar/vocals) with Ellen Dunstan (vocals); David Goodman (keyboard); Paul Goodman (drums); Keith Newell (acoustic guitar/vocals); Terry Gerrish (bass guitar); Mario Abrami (lead guitar/vocals); Oliver Gambles (flute); Bob Jenkins (guest lead guitar on 'Wipeout').
Behind the scenes, Nicholas and Henrietta Buxton had worked extremely hard with a team of others to provide accommodation, food and drink.  The barn looked amazing with its bunting and the stage lighting, all set off by the fire-pit and the excellent BBQ food.  Some folk became real converts to sitting on straw bales ("they look good and are really comfortable"), while others chose the seats provided or brought their own upmarket loungers with built-in holders for their drinks…
Hours of unglamorous labour, but absolutely necessary for the event's success, were spent beforehand by Paul and Mario who rigged up the sound and lights – and afterwards, helped by the other musicians, they stayed on till midnight taking it all down again.  Truly magnificent teamwork all round, making for an evening of great entertainment and a resounding fundraising success – well done all!
GD           With acknowledgements to MD and PG